We all want a competitive edge that'll get us ahead in an ever-competitive marketplace – and if you're pursuing a career in sales, that might mean going back to school with a sales training course. Here's the problem, though: there are literally thousands of courses to choose from. The options and questions are almost endless.
Should you take that one-day seminar or sign up for that two-year degree program?
Should you shell out a few (or a lot of) extra dollars for that world-renowned sales guru?
Should you stay live and local or try an e-learning course?
Should you take a course on sales strategy or cold calling?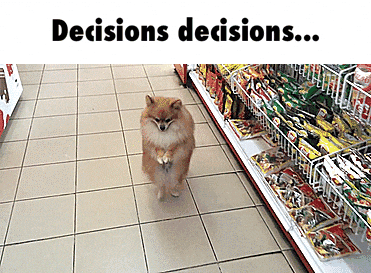 We know – choosing is hard. But we can at least help you narrow down your options with these must-ask questions to help find the right sales training course.
What do you want to get out of it?
Before you do anything else, close those search results and focus up. Because you need to know what you want to get out of a sales training course before you find the right solution.
Are you transitioning into sales from an outside field? Your goal might be to learn the basic skills that'll kick off your selling career. Are you a seasoned sales rep who can't seem to convert leads from LinkedIn? Maybe your goal is more about gaining practical knowledge in social selling. Do you have a whole sales team that's struggling with their quotas? A program that introduces an entirely new methodology might help most.
Whatever your situation, think about where you want to be when the course is over and write that down. It'll be your north star as you sift through your options.
What does it teach?
Pop those search results open again. Now that you have a goal in mind, you can refine your search and dig into the details, like the topics each sales training course covers, the sales methodology they use, and the specific curriculum that you'll go through. Still not sure? Don't
be afraid to ask them for some sample materials, or to sit in on a session before signing up. Make note of courses that:
Align topics and methodologies with your overall goal
Provide high-quality insights on those topics
Go into the amount of detail you need
How is it taught?
There's a huge difference between live classes and pre-recorded e-learning modules. The same goes for learning by PowerPoint and learning by doing. Not to snub any of these formats – there's a time and a place for everything – but go back to your original goal and think about which will work best for the kind of outcomes you want. That said, there are some general features to look for:
A variety of learning methods to reinforce knowledge (think lectures, live Q&As, one-on-one practice, assignments, interactive discussions and even internships)
Formats and channels that work best for you (think in-person, live streaming, video, audio, reading and worksheets)
Who's teaching it?
The quality of any sales training course depends on the quality of the instructors. Get to know the people at the front of the room a little better by doing some research. What does their website say? What's on their LinkedIn profile? Are there videos of them in action? Short-list instructors who have:
Proven sales experience under their belt
Industry knowledge that's relevant to your goal
Top-notch communication skills.
What does it promise?
If you're seeing claims like, "We will double your pipeline in 60 days!!!" stay away – unless they have really good evidence to back that up (we doubt they do). When it comes to ROI, if it sounds too good to be true, it probably is. Instead, opt for sales training courses that:
Make realistic statements about outcomes
Provide evidence that supports those outcomes
Tells you how they measure and reach those outcomes
What does success look like?
Once all's said and done, what new skills will you have? How will you know if they're paying off? And how long will you have to wait to find out? Your win-list should include courses that:
Continue to track the success of past customers
Can demonstrate success for others like you
Are clear with you about what you can and can't expect
What's the time commitment?
If you're looking to overhaul the old sales process, don't count on getting it done during a one-day seminar. But if you're training a whole team, chances are you don't want to pull them away from the phones for days at a time. The key is finding a sales training course that's just as long as it needs to be, and flexible enough that you can get it done without impacting other important work.
Find that balance from providers that:
Are transparent about how much time it'll require
Offer self-directed learning for your terms
Have a flexible schedule for live-streamed or in-person sessions
How are you evaluated?
No one likes tests, but they exist for a very good reason: to measure how much we learn and the progress we make toward our goals. After all, feedback helps us identify our strengths and the gaps we need to work harder on. Top marks go to sales training courses that:
Personalize feedback for each student in the course
Adapt their training for each individual learner
Use real-world methods of assessment alongside classroom metrics
How up-to-date is it?
Are you a 1980s salesperson peddling encyclopedias door-to-door? Didn't think so. If you're going to get ahead of your competition, you need the latest tools and tricks to get the job done – not a repeat of a course taught five years ago, or a course built on decades-old methods. Update your list with courses that:
Do their own homework on sales trends
Reevaluate and update their content on a set schedule (and stick to it)
Integrate current tools and technologies into the curriculum
What do other people say?
You wouldn't buy a pair of shoes online without looking up a few customer reviews first. Ditto for sales training courses. Look for testimonials, case studies and third-party reviews – or ask to speak directly to past customers for a more direct and honest discussion. Give five stars to trainers that:
Have glowing feedback from people with similar needs and goals
Aren't afraid of honest feedback, and use it to improve
Are willing – and even excited – to put you in touch with past customers
Anything else you want to know?
Reach out and ask. A quality provider will be happy to give you the information you need to better weigh your options. Now go make those training goals a reality.
---
Uvaro can help
Hey, did you know you can check out Uvaro's curriculum online? It's a game changer resource that helps answer almost all of the questions you might have about sales & tech.
Learn more about our available courses, and if you have more questions please reach out. At Uvaro, we are always happy to help you on your sales journey.